SANTORINI AIRPORT (JTR) INFORMATION
Origin
Airline
Flight no.
Scheduled
Est./Actual
Status
No flight arrivals were found at Santorini Airport.
Destination
Airline
Flight no.
Scheduled
Est./Actual
Status
No flight departures were found at Santorini Airport.
Car Hire at Santorini Airport
UNBEATABLE VALUE CAR RENTAL
Free Amendments | Free Cancellations | No Card Fees




Santorini Airport - All Information on Santorini Thira Airport (JTR) Santorini Airport
Santorini (Thira) Airport, 84700 Monolithos, Santorini (Thira) Island, Cyclades, Greece
phone +30 2286 028400
phone+30 2286 028400 (Lost + Found)
emailinfo@fraport-greece.com
emailinfo@fraport-greece.com (Lost+Found)
call_endN/A (fax)
Facts and History about Santorini Airport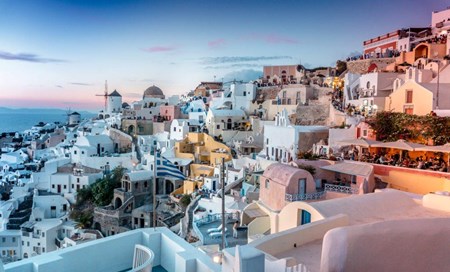 Santorini International Airport on the Greek island known as Santorini, also goes by the name Thira Airport. Thira is a variation of the island Santorini's official name Thera, but most people know it better as Santorini. The airport is located around 6 km southeast of the town center of Fira, the island's capital, and 5,5 km north of the town/village of Kamari. 
The island of Santorini is a part of the Cyclades islands in the Southern Aegean Sea and it is one of few Cyclades Islands to have an international airport. 
The airport's IATA code is JTR and the ICAO code is LGSR and it serves both as a military and a civil airport.
The airport opened in 1972 and has been active ever since with not many changes. It has a single terminal serving arrivals and departures for both domestic and international flights and a single asphalt runway of 6,972 m/2,125 ft. with a parallel taxiway and it can serve medium sized jets like Boeing 757 and 737 and the Airbus 320 series, and of course smaller aircrafts. 
Most flights are charter flights and those are mostly seasonal for the summer season, but some airlines, such as Aegean Airlines and Olympic Air, have scheduled flights for most of the year.  
As of April 11, 2017, the airport is operated by the joint venture between Fraport AG and Copelouzos Group through an agreement with the Greek state privatisation fund signed in December of 2015. Santorini Airport is one of 14 Greek airports that are under this agreement which will last for 40 years. 
As part of the privatisation the airport is scheduled to undergo some improvements such as expanding and remodeling the current terminal, increasing the number of check-in desks from 8 to 17, increasing the number of security lanes and the number of departure gates as well as improving markings of airside areas and lighting and reorganising the airport apron area. There are also plans to improve the fire safety in all areas of the airport and to build a new fire station. The enhancing of services available at the airport and the offering of free WiFi connection has already begun or taken place. 
Santorini International Airport saw 2,300,408 passengers and 21,319 aircrafts move through it in 2019.
Arrivals, Departures and Airlines at Santorini Airport
Transferring to and from Santorini Airport
Car Parking The airport does not have a dedicated official parking lot, but there are free public parking lots in the surrounding areas. During high season these tend to be mostly full, though.
Hotels near Santorini Airport
There are a number of hotels to suit all budgets and requirements at or near Santorini Airport.
Smoking at Santorini Airport
Smoking inside the airport is strictly forbidden according to Greek laws and there are no smoking areas once on airside, although, the café located on the roof terrace might allow smoking. Otherwise all smoking has to be done outside the terminal on landside.
ATMs
Santorini Airport has 3 ATMs on the premises. One in the external area, one in the arrivals area and one in the departures area, all on landside, so make sure you have withdrawn the cash you wish to withdraw before going through to airside.
Currency Exchange
A currency exchange service can be found in the Arrivals, All Users area of the airport.
WiFi at Santorini Airport
Santorini Airport offers unlimited free WiFi to all their visitors. It is as simple as logging into the network named "Fraport-Free" and opening up a browser.
Shopping at Santorini Airport
There is a phone shop that sells SIM cards, chargers and other mobile phone related items located on the landside, in the Arrivals area.
On airside, in the Departures area, the Hellenic Duty Free Shops offer merchandise from many well-known brands specialising in clothes, jewelry, watches, toys, confectionary, and much more to competitive prices, and they offer a Reserve & Collect option.
Items can be collected once through the security control and airside has been entered.
Lounges at Santorini Airport
See and book airport lounges at Santorini Airport.
Mobile Device Charging Stations at Santorini Airport
There are charging stations for mobile devices located in the Intra Schengen gate 3 area, Airside, Departures, offering wireless and wired options.
Food and Beverages
There are a total of 3 options to eat and drink at the airport of which 2 are on landside, both in the departures area, and 1 on airside, also in the departures area. They all serve coffee and basic meals such as sandwiches, or pizzas and pies.
First Aid at Santorini Airport
In the case of a medical emergency there are First Aid spots to be found at the airport. If more assistance is needed please contact the Airport Information Counters. 
Lost and Found
There is no dedicated Lost and Found at Santorini Airport, so in the case of a lost item please follow the instructions below:
For an item lost at the airport please contact the Airport Information Counters.
For an item lost on the aircraft please contact the airline directly.
For an item lost during transfer please contact the ground transportation company directly.
Things to do in Santorini
There are a number of activities to suit all ages and interests in the region - see a selection of tourist activities in Santorini, Greece.
Santorini Airport Contacts
Address: Santorini (Thira) Airport, 84700 Monolithos, Santorini (Thira) Island, Cyclades, Greece
General Phone: +30 2286 028400
General Email: info@fraport-greece.com
Lost and Found Email: info@fraport-greece.com 
Lost and Found Phone: +30 2286 028400
Official Website: https://www.jtr-airport.gr/en
Local Information
Drive on: Right
Electricity: 230V/50Hz
Plug: C, F 
Currency: Euro - €
Services at Santorini Airport
Useful Information about Santorini Airport