Taxi Transfers To and From Santorini Airport
Find Unbeatable Value Taxi Transfers


Santorini Airport Taxis - Fares, Distances and Where to Find Them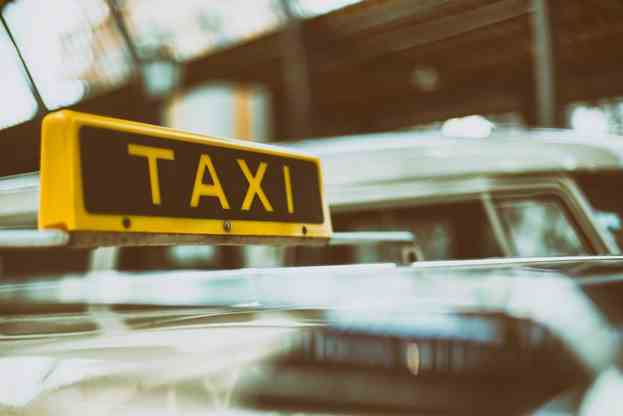 The licensed taxis at Santorini Thira Airport are grey and will stop at the taxi rank right outside the terminal.
Please, remember to collect your luggage from the baggage claim area of the arrivals hall before making your way to exit the terminal.
For travelers wanting to take a taxi to their accommodation there are a few things that are good to know. Customers that haven't pre-booked a taxi will have to enter a queue as they are given a taxi on a first come, first served basis. Since there is a limited number of taxis on the island and high season can be very busy the line can be long, and it also means that passengers often get to ride with other passengers they do not previously know. The taxis can carry up to 4 passengers with 1 in the front passenger seat and 3 in the backseat, so for bigger groups it is advised to pre-book a taxi van or shuttle.
The taxis on Santorini use a taximeter ticking on the time and distance of the journey which means traffic at the time of the transfer will affect the cost. There are also some other additional fees that may be applied to the total cost such as the airport fee, approximately 2.50€, and excess luggage, approximately 0.40€/kg, and from midnight to 05.00am the fare doubles.
It is important to make sure the taxi driver starts the taximeter in order for the customer to not be overcharged, so don't be afraid to remind the driver in case it isn't started.
The journey from the Airport to Fira takes around 15 minutes and the fare is normally around 15-20€ at the basic fare, but will, as mentioned above, vary depending on a few parameters such as traffic.
Shuttles
Charter tour operators sometimes have transfers organised already waiting to transport the traveler and luggage to their accommodation and a lot of the hotels are more than willing to help organise the transfer at an additional charge if requested.
Shuttle companies can sometimes also be found in the arrivals hall offering transfer to specific hotels or areas to arriving travelers.
Taxi fares to & from Santorini Airport (JTR)
Taxi Transfer Customer Reviews
Available Transfer Options