Santorini Airport Departures (JTR)
Not all flights may be showing. If not available use search above to find your flight by airline, airport or flight number.
Destination
Airline
Flight no.
Scheduled
Est./Actual
Status
Madrid (MAD)
Iberia
IB3325
09:25
Scheduled
Athens (ATH)
SKY express
GQ357
09:45
Scheduled
London (LGW)
easyJet
U28254
10:10
Scheduled
Birmingham (BHX)
Jet2
LS1354
10:30
Scheduled
Athens (ATH)
Volotea
V74135
10:55
Scheduled
Vienna (VIE)
Lauda Europe
FR571
11:00
Scheduled
Nottingham (EMA)
Jet2
LS664
11:40
Scheduled
No flight departures were found at Santorini Airport.
Flight Departures at Santorini Airport
When it is time to depart from Santorini Thira Airport (JTR) there are a few things to be aware of to make your visit at the airport a smoother one.
Transfers at Santorini International Airport
Parking - There is no official airport parking lot at the airport, but there are public parking spaces in the surrounding areas, mostly free of charge, although, during high season it might be difficult to find available parking spaces.
Address of Santorini Airport
Santorini (Thira) Airport84700 Monolithos
Santorini (Thira) Island
Cyclades
Greece
Smoking at Santorini Airport
It is not allowed to smoke inside the airport, so make sure to smoke outside before entering. There is however a café located on the roof terrace, available once through the security control, that is said to allow smoking as it is outdoors.
ATMs
The airport has 3 ATMs located in various locations. For departing passengers there is no ATM once on airside and one of the 3 ATMs is on airside for arriving passengers. The two ATMs available for departing passengers are:
All users area – Eurobank 
External area – Piraeus Bank
Currency Exchange
Departing passengers who wish to exchange currency before their flight need to find their way to the Arrivals, All Users area of the airport where a currency exchange is located. 
WiFi at Santorini International Airport
The WiFi network at the airport is called "Fraport-Free" and is both free and has not limits for use. Simply choose the network, open up a browser and the welcome page will appear.
Shops in Santorini International Airport
There are no shops in the departures area of the airport on landside, but there is a phone shop in the Arrivals, All Users area. 
Once departing passengers have cleared the security control they have access to the Duty Free Shop offering famous brand jewelry, clothing, spirits, tobacco, toys, watches and more. 
The Hellenic Duty Free Shops also offer a Reserve & Collect option. Items can be collected once through the security control and airside has been entered.
Mobile Device Charging stations at Santorini Airport
Charging stations offering wireless chargers, Micro USB, USB hub and sockets can be found in the Departures Airside Intra-Schengen gate 3 area.
Food and Beverages
There is a Flocafe serving fresh coffee and handmade sandwiches located in the External Departures, Landside area, and an Aircanteen offering fresh coffee and a variety of sandwiches, pies, pizzas and more in the Departures, Landside area. 
For passengers on Airside there is an Il Maestro located in the Intra Schengen area of the airport, offering simple self-service meals such as pizzas and pasta from a limited menu.
First Aid at Santorini Airport
First Aid spots can be found for visitors to use in the case of emergency. For further assistance in a medical emergency please contact the Airport Information Counters.
Lost and Found at Santorini Thira Airport
If you have lost an item on the transfer to the airport please contact the ground transportation company directly. 
For items lost at the airport please contact the Airport Information Counters.
For items lost on the aircraft please contact the airline directly.
Was your flight delayed or cancelled?
You may be eligible to receive up to 600 EUR compensation per person in your party..
Claim Now!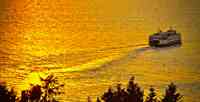 Ferry services to and from the Greek Island of Santorini